Forests are the lungs of our planet, providing us with oxygen, storing carbon dioxide, and supporting a diverse range of ecosystems. However, deforestation, climate change, and human activities have put forests under immense pressure. As we strive to preserve and enhance these vital ecosystems, innovative inventions and technologies have emerged to help us protect and manage forests more effectively. Let's explore some of the most promising new invention ideas for forests.
Drones for Reforestation and Monitoring
Drones have become an essential tool in the fight against deforestation. Equipped with cameras and sensors, drones can quickly and accurately map forest areas, monitor tree health, and detect illegal logging activities. Some organizations are even using drones to plant trees in hard-to-reach areas. One such example is the company BioCarbon Engineering, which uses drones to shoot seed pods into the ground, allowing for the rapid reforestation of large areas.
AI and Machine Learning for Forest Management
Artificial intelligence (AI) and machine learning technologies have the potential to revolutionize forest management. By analyzing vast amounts of data from satellite imagery, weather patterns, and other sources, AI can help predict and prevent forest fires, detect illegal logging, and improve overall forest health. For example, the company Orbital Insight uses AI algorithms to analyze satellite imagery and provide insights into forest cover changes, helping governments and organizations take action to protect these vital ecosystems.
Tree-Planting Robots
Another innovative solution to deforestation is the development of tree-planting robots. These autonomous machines can plant trees at a much faster rate than humans, making reforestation efforts more efficient. One such robot, developed by the company Terraformation, can plant up to 10,000 trees per day, significantly speeding up the reforestation process and helping to combat climate change.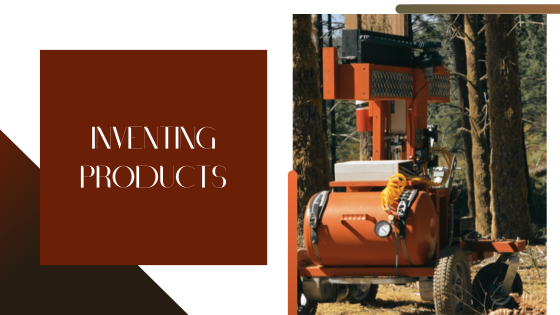 Biodegradable Seed Pods
Biodegradable seed pods are a simple yet effective invention that can aid in reforestation efforts. These pods, made from natural materials such as peat or coconut coir, contain seeds and nutrients to help trees grow. When planted or dropped from the air, the pods break down over time, releasing the seeds and nutrients into the soil. This method not only speeds up the planting process but also reduces the need for plastic containers and other waste materials.
Smart Forest Sensors
Smart sensors placed throughout forests can provide invaluable data on forest health and potential threats. These sensors can monitor temperature, humidity, soil moisture, and other factors, helping to predict and prevent forest fires or disease outbreaks. Additionally, some sensors can detect the sounds of chainsaws or other logging equipment, alerting authorities to illegal activities.
Vertical Forests and Urban Green Spaces
While not a direct invention for forests, the concept of vertical forests and urban green spaces can help alleviate the pressure on natural forests by providing alternative habitats for wildlife and improving air quality in cities. Vertical forests are buildings covered in plants and trees, designed to provide the same benefits as a traditional forest within an urban environment. This innovative approach to urban planning can help reduce the need for deforestation while enhancing the quality of life for city dwellers.
How to come up with invention ideas to help the environment? The key to coming up with a great invention is to look at problems in your daily life, and find ways to solve them. If you're looking for ideas on how to help the environment, pay attention to things like water pollution or deforestation—these are issues that affect everyone around the world.
And with the help from companies like InventHelp , you can turn your invention idea into a reality. InventHelp has been helping people bring their ideas to life for over 30 years, and their experts can help guide you through every step of the process.
Conclusion
As the global population continues to grow and climate change accelerates, the need to protect and enhance our forests has never been more critical. These new invention ideas for forests offer promising solutions to help us achieve this goal. By embracing these technologies and working together, we can preserve our forests for future generations and ensure a healthier, more sustainable planet.